Gift Planning

Tom and Chris Cutler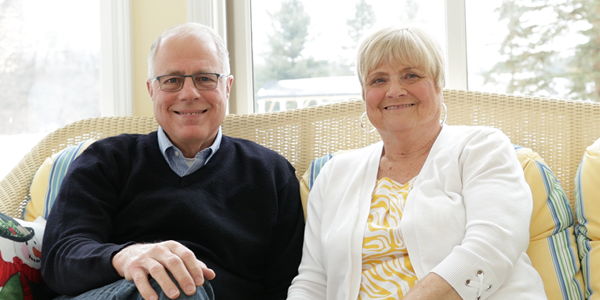 For several years we gave to The Salvation Army to help with natural disaster relief around the country. At Christmas we'd contribute to the Red Kettles too. We knew The Salvation Army did good work, but to what extent, we weren't sure. However, God and his Divine ways would change that. Around two years ago is when the people and the ministry of The Salvation Army would became personal to us!
At a God-appointed encounter in a Staples parking lot, I (Tom) had the pleasure of meeting Major Jim, the local Salvation Army Officer. This meeting sparked me to want to know more about the mission of The Salvation Army, which Chris and I had been supporting for years. We arranged to meet again, but this time at the Lansing Corps Community Center for a personal tour. I was very impressed with the work being done here in Lansing and we decided that we needed to provide greater support.
That greater support eventually led to including The Salvation Army as a beneficiary of one of our IRA retirement accounts. We feel strongly that when God calls us home, we want a significant portion of our estate invested in a broad base of Christian ministries, including The Salvation Army.
"As a Christian we should be looking for opportunities to see that the Lord's work is accomplished now and into the future," says Chris.
We chose to include The Salvation Army as a beneficiary of one of our IRA's because it's a very tax friendly way to give. It's also very easy to adjust the percentage, in the IRA, that will go to a given ministry. We believe The Salvation Army has a long-standing history of serving the needy in our community and we want to make a significant investment in that ministry both now and into the future.
We're thankful and grateful to be a charter members of the Hope Brigade Legacy Society because we know that our future investment will be well used.